Each person deserves a healthy and happy life. But if you are feeling exhausted all the time with no motivation? You need to pass through it and have time to make some alterations. Well, you are at the right place. We, Mind Mentor Counsellor in Mumbai, understand each person is different with distinct ways to think. Even a slight change in life can have a drastic effect.
The feeling and emotions of everything depend on how we feel. And if you are feeling anxious or depressed, do not worry, we are here for you.
What to do? To whom I should talk? Where should I go? What am I doing with my life? Maybe these are some of the questions in your mind. So, get ready, it's time to get rid of them.
The Golden Lining
Being a psychologist, I Dhwanii Shah, can understand what you are going through. I can make you feel a lot better. You will no longer feel dull. I know childhood carrybacks are not easy to cope but with efficient emotion-regulating therapy, you will feel empowered. With the help of therapy, a controlled environment, and deep conversation, your life will be evolved.
Yes, the process at a time can be long and might take various sessions but are worth it. You will discover self-acceptance and motivation that will pump you with enthusiasm. It's time to get that peace, not just in the surroundings but the inner calm, you want to get.
You will be encouraged and heard with no judgments. In other words, you can completely be you and say whatever comes to your mind, and I will always be there for you. We ensure a safe and secure environment and will also aid in the grieving process.
Meet Our Counsellor In Mumbai, Dhwanii Shah
I am a well-qualified psychologist with more than 5 years of experience in counselling. I practice various methods and techniques like-
REBT
Transactional analysis
CBT therapy
Play therapy
Family Therapy
Specialized in couple counselling and family therapy
Child development psychology.
Advanced Metaphor therapy
Now talking about my qualifications, I  have a Master's Degree in Psychology And  Diploma in Advanced Psychology. Hence do not worry you are in good hands. During the sessions, we will focus on your strengths rather than your symptoms.
The first session will be a detailed self-discovery. You can be as open and vocal as you want. And also, sometimes it is not even necessary that you need multiple sessions. We can discuss everything in the first session and then decide whether you need counselling or not.
If the answer is yes, we will schedule weekly sessions depending on your severity. During the sessions, I will be there to hear you, whatever bothers you. And based on that, our further techniques will be decided. If needed, I may even ask you to take some medications I prescribe, but that is not always necessary. Mostly the talking and various healing practices do the work. At first, we will concentrate on the deep-lying reasons that are root causes and triggers. And then the focus will be on how to confront and overcome them.
So, feel free to contact me online or physically mode to discuss almost everything you wish to. I can help you understand deeply understand anxiety, depression and many other issues.
About Mind Mentor
Mind Mentor was set up to expand healthy living and mental health awareness. We thrive to make your life better. Further, with various services offered by us you can flourish in your personal as well as professional life. Mind Mentor will be the refreshing agent in your life.
We have a history of happy clients, who thank us for our A-grade services. We schedule follow-ups and strictly pursue a professional work environment. There is a range of clients, starting from children to adults with various problems like, marriage, relationships, work stress, career counselling, and the list goes on.
We are located at Sej Plaza, Marwe Road, Malad West, Mumbai, 400064, where you can make an in-person appointment or directly contact us through the website. Yes, we provide online counselling sessions too. Hence do not hesitate more and feel free to book an appointment.
Services we offer in Mumbai
Gone are the days when therapy was taboo. Our bodies need rest from the monotonous-laborious physical world, so why not is our mind working even when we are asleep? The physical body can be seen and treated, but our thoughts are complex and are not tangible. No one can read our minds. Even being a psychologist, I can tell it takes time to comprehend the real trigger.
Hence, we, Mind Mentor provide various services for different situations. Whether it be a marriage problem or anything you can't figure out yourselves, we are here to unload your emotions.  The services we offer are-
1. Stress management
Work-life tension, marriage concerns, relationship issues, and financial chaos all mix up to grow stress that manifests itself in heart diseases, severe health concerns, low self-esteem and a lot more. At Mind Mentor, we offer stress management counselling in Mumbai that will teach you how to control stress and get the most out of positive stress. We leverage modern and latest strategies that are curated to help you deal with stress better.
Our counselling in Mumbai will assist you in identifying the underlying cause and personal triggers that are causing stress and looking for ways of coping with them. Our stress counselling in Mumbai will also render you an opportunity to address other mental health concerns as well.
2. Health counselling in Mumbai
Do you want to switch to a healthy life? A healthy life cannot only help you to feel better, but it can also reduce the risk of some severe physical health and mental health concerns.
At Mind Mentor, our founder counsellor in Mumbai, Dhwani Shah excels in offering strategies and plans that are specially curated to lend you a helping hand, so can you take a positive shift toward healthy living.
With a plethora of information available on the web about healthy living, you might often find it difficult to follow one particular diet, exercise plan, training advice and so on.
At Mind Mentor, we assure our clients of hassle-free health counselling in Mumbai to ensure they make healthy living and achieve a secure livelihood. We also help our clients to cope with substance abuse such as getting rid of addiction to tobacco, alcohol, pain medications smoking, illegal drugs and a lot more.
3. Career counselling in Mumbai
Looking for the right guidance to leap through your career? Mind Mentor got your back. Discover your potential with our counsellor in Mumbai to help you find the right career pathway. Get unmatched guidance from counsellors in Mumbai that provide expert advice on motivational skills, aptitude, potential, and shortcomings with carefully designed assessment tests and tools.
Our expert counsellor in Mumbai, Dhwani Shah has the upper hand in child psychology counselling and can help kids, teens, youths and young adults alike in setting their career goals.
Our counsellors in Mumbai work with clients in tandem. They'll help you in identifying your strengths, weaknesses, learning patterns and interests using tools and aptitude tests, IQ or Interest tests. Based on the reports of the test, our counsellor in Mumbai will work alongside you to find a potential career option for you.
From helping you to choose the right board, course, school, and college to choosing the right job, our counsellor in Mumbai will guide you on your pathway towards a successful career.
4. Relationship counselling
Whether you believe it or not, we believe love is forever enduring and it is not meant for being a cause of depression or anxiety in your life. So, if you are looking for a relationship counsellor in Mumbai, Mind Mentor is the place to be at.
Our counselling in Mumbai will help to get rid of all your relationship worries and issues. Our founder counsellor in Mumbai, Dhwani Shah will help you live a regular and fulfilling life with your partner. Through our counselling session, we'll understand your issue in-depth and provide a customizer plus a personalized treatment plan that matches your concerns.
5. Marriage counselling in Mumbai
Marriage can get bitter, but giving up is not an option. A wind that in mind, we offer professional marriage counselling in Mumbai to help you solve all your marriage worries in the best possible way.
Whether you are facing bad marriage, domestic abuse, sexual abuse, mental or physical trauma, communication problems or financial crises, we'll help you to cope with any issues that might hinder your marriage.
Our marriage counsellor in Mumbai can understand and empathize with both sides of a married couple's story and can provide guidance and remedial advice based on their judgment.
6. Child counselling in Mumbai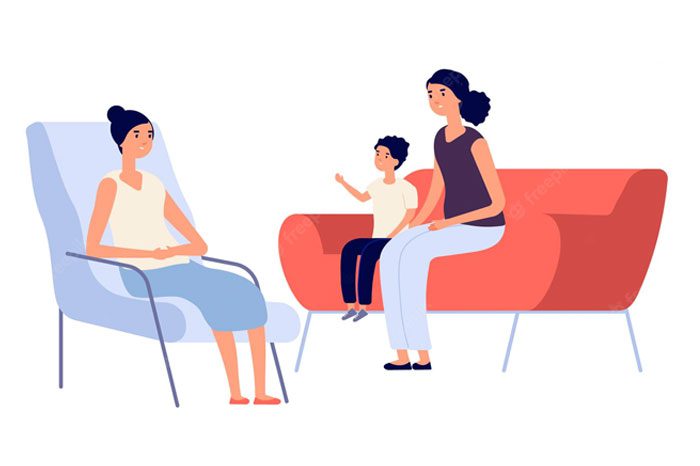 Just like adults, many kids, teens and children experience emotional difficulties while growing up. Sometimes, they avoid social activities, display mood disorders and even refuse to go to school. When your child shows up these signs, it is time to visit a counsellor in Mumbai. A professional counsellor in Mumbai will identify the root cause of the emotional suffering that your child might be going through.
For a parent, it can be difficult to understand the psychology of their child as their behaviour is inconsistent and keeps on changing. At Mind Mentor, our highly specialised counsellor in Mumbai, Dhwani Shah excels in child counselling psychology and helps your little runt to remain calm and focused in life.
Our counsellor in Mumbai is known for offering the best child counselling therapy and treatment, We involve parents in the therapy session along with the child and craft a road map to recovery to make your child's life joyful and delightful.
8. Family counselling in Mumbai
Do you have problems in your family? Are looking for help in resolving your family issues? If your answer to the above question is yes, Mind Mentor is the place to be at. We believe a strong family is a happy family. Each member of the family is important. Even if one member is in pain, the whole family will be in pain. This might lead to misunderstanding the create big clashes in the family.
This is where counsellor in Mumbai comes into the picture
Counsellors in Mumbai can help nuclear families, step-family or joint family to help in dealing with tough situations or series of unsolved issues faced between the members of the family on daily basis.
At Mind Mentor, our family therapy focuses on offering a safer environment for a family member to discuss their issues openly, which help them feel heard and they get the opportunity to create a new vision for their lives. Our counsellors in Mumbai, try and understand their problems and make a conscious effort to rebuild trust and connection between all the members of families.
FAQs About Counsellor In Mumbai
Who is a counsellor in Mumbai?
A counsellor in Mumbai is a person who works in tandem with individuals who are experiencing personal difficulties, mental issues and mental illness conditions, and helps them to overcome their problems and try to bring out appropriate changes in their lives.
What does a counsellor in Mumbai do?
Counsellors listen, encourage and empathise with individuals suffering from various emotional, psychological and mental disturbances like depression, stress, anxiety, suicidal thoughts and a lot more. Counsellors may work with clients with mild to moderate mental health problems or drug-related problems, or with people who need support because of genetic disorders or diseases such as cancer.
How do I find a counsellor in Mumbai?
Finding the best counsellor in Mumbai is surely a daunting task, especially if you don't have prior experience in dealing with mental illness, depression, anxiety, or related issues. So, when it comes to searching for the best counsellor in Mumbai, always check the experience of the counsellor followed by customer testimonials, and reviews on Google or quora, check whether they have a registered office or not, and finally go through their website.
Who is a good counsellor in Mumbai?
Dhwani Shah is a top-rated counsellor in Mumbai with 5+ years of experience. She holds a  Master's Degree in Psychology And  Diploma in Advanced Psychology and has the upper hand in play therapy, family therapy, REBT therapy, CBT therapy, child development psychology, transactional analysis, and advanced metaphor therapy.
Her knowledge and understanding of various mental problems faced by individuals and her usage of the latest and modern methods of treatment set her apart from other psychologists in Mumbai.
How much does a counsellor in Mumbai charge?
Charges of counsellor in Mumbai depends on several factors like the experience of the psychologist, the credibility of the clinic, knowledge, time spent per session, and a lot more. However, the general charge or fee for psychologists in Mumbai is between Rs 1000 to Rs 2000 per hour.
Interested Reads:
Psychological, IQ and Aptitude Testing In Mumbai